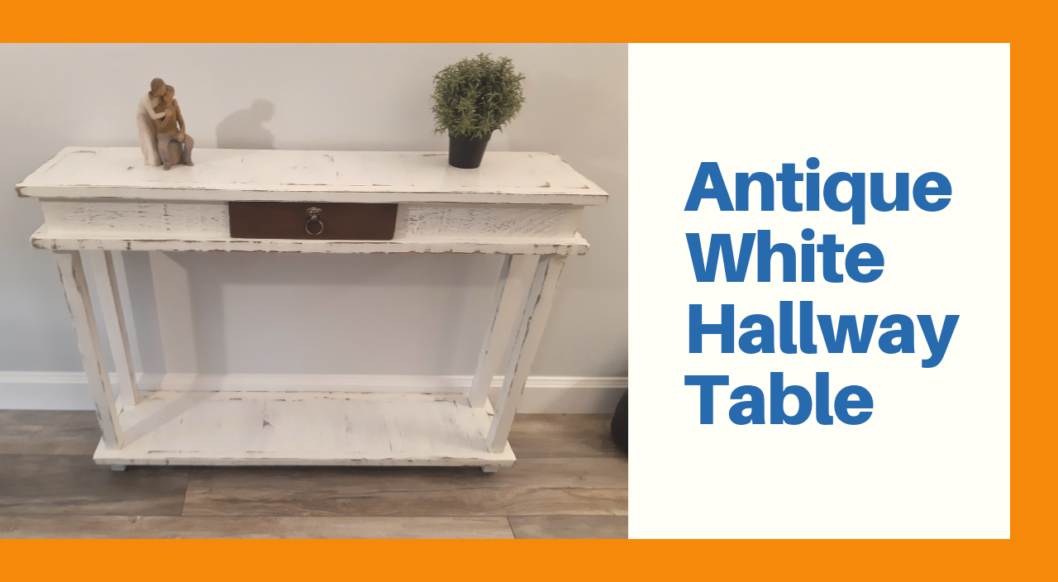 Antique White Shaker Style Hallway Table with 1 Drawer
Hallway Table
After building the shaker style coffee table and finishing in an antique white chalk paint finish we knew we wanted to build more furniture with the same style.
This narrow hallway table is perfect for homes with narrow hallways and want to accent the area with some furniture that won't get in the way of household traffic.
The center drawer is functional and can be used to store small items like keys and change.
In the photos we took we didn't put anything on the bottom shelf but you can certainly add your own flare for style by placing some decorative items there.
Having a hallway table also provides an amazing focal point for seasonal decorations.
Building this project can be an easy weekend DIY project or if you prefer to have it built and live in our Ottawa, Canada region we can build it for you. ( Sorry we're not in the shipping business...yet)
As we've mentioned in our other blogs and videos we try to build furniture or projects using reclaimed materials.
This hallway table was built using a combination of reclaimed wood and new rough cut lumber.
We used rough cut pine wood but you can certainly use any type of wood you prefer and apply any finish that suites your design style.
The style we chose appears to be a very popular design and we added our own little twist by keeping the center drawer dark wood.
Using reclaimed wood and some leftover wood scraps from our workshop the cost of materials for this project was quite low.
Now lets get this project going.
How We Built It
Design and Dimensions
As per our usual process we started by sketching out some ideas on scrap paper then created a more formal drawing in Sketchup.
I'm still learning how to fully use Sketchup so I apologize in advance for it's limit to detail at this time. It can only get better with time.
With the plan in hand we started pulling out the leftover wood in our shop and started figuring out how we can use it and if there is enough or the right lengths to build it.
Unfortunately we did not have anything we could use to build the legs...that is in a way that looked decent.
So we had to head out to the lumber yard to get a couple of pieces of wood to make the legs. We had enough wood for the rest of the table. The only other thing we bought was the drawer handle.
With all the lumber and hardware in hand we are ready to build this thing!
Preparation
Shopping List
---
2 - 2" x 2" x 72", Pine Boards
2 - 1" x 12" x 96", Pine Board
1 - 1/2" x 3" x 36", Pine Board
Note: Lumber size listed is in actual size. Learn more about Nominal vs. Actual sizes here.
Materials
---
Pine Wood -we used rough cut pine lumber but you can use any grade to save on prep time.
Pocket Hole Screws
Wood Screws
Wood Dowels
Wood Glue
Chalk Paint
Dark Wood Stain
Chalk Paint Wax or Wipe-on Polyurethane
Handle/Hardware
Tools
---
Must Have Tools
Safety Glasses
Ear Protection
Dust Mask
Sandpaper
Drill
Tape Measure
Square
Circular Saw
Paint Brush
Advanced Tools
Compound/Miter Saw
Table Saw
Pocket Hole Jig
Dowel Jig
Impact Drill
Orbital Sander
HVLP Paint Sprayer
Joiner
Planer
Cut List
---
Top

3 -1 x 12 x 8" ( then cut in various widths for rustic effect)
4- 1 x 1 x 44"
4 - 1 x 1 x 5"
1 - 1 x 3 x 41"
2 - 1 x 3 x 13 1/2"

Legs
​Shelf

3 -1 x 12 x 8" ( then cut in various widths for rustic effect)
2- 1 x 1 x 44"
2 - 1 x 1 x 5"

Drawer

2 - 1/2 x 3 x 12"
2 - 1/2 x 3 x 5 1/4"
1 - 1/2 x 3 x 13" ( drawer front)

Steps To Building The Shaker Style Hallway Table
We started by taking out the pencil and paper to sketch out our plan.
We used reclaimed wood that took a few more steps to create the top and shelf look we wanted but using new lumber will allow you to use 1" thick rough cut boards to create the same effect.
Using reclaimed wood meant we had to glue a thin 1/4" plywood we had to another 3/4" plywood scrap wood we had available to make up the 1" thick board.
The completed top and bottom shelf turned out great. Maybe too great for the look we were looking to have so we ended up having to rough them up a little. If we used rough cut lumber it would have saved us some time.
Now that the shelves are complete we can now attach them to the legs. We used a combination of glue, notching, and pocket holes.
The shelves are attached, now we can complete the look by adding the surrounding wood below the top shelf and build the drawer.
We completed the assembly so now it is time to sand, and sand, and sand. Notice we roughed up the shelves.
Somehow we lost all of our DIY chalk paint footage and we are now going straight to the final finish. We wanted a true antique look so we decided to use a wipe on polyurethane that will yellow the white somewhat to create a true antique looking hallway table.
The finished table matches well with the antique white coffee table we built.
You can take a look at other projects we created by checking out the other categories or blogs on this website.
If you have any questions or comments to make about this build be sure to leave them below we would love to hear from you.