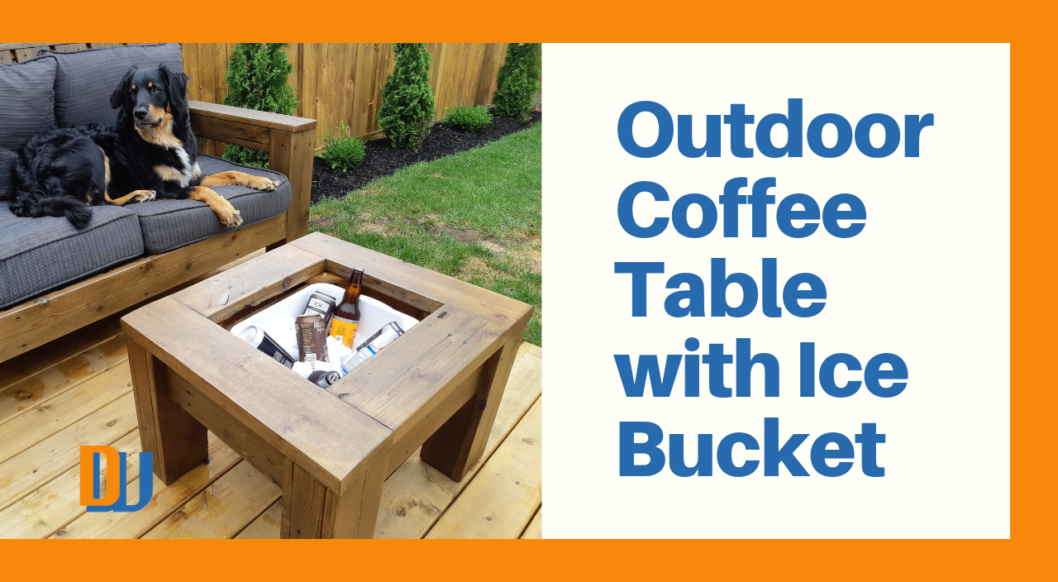 Outdoor Coffee Table with Built-In Ice Bucket!
Building this reclaimed wood lift top coffee table was a fun and quick project.
We not only have a lift top tray on the top, when you take the tray away you will find a bucket that can be used for drinks or storage.
Building an Outdoor Coffee Table with an Ice Bucket
In our previous and first post we described how we had a pile of wood from an old cedar deck we took apart. We decided to build some patio furniture from the reclaimed wood and started with the love-seat, you can see it partially in the photo above or see the reclaimed wood love-seat here.
Our new deck isn't very big but we really liked the idea of having a table with a drink bucket so we designed this small, cute, and functional coffee table from more old deck leftovers.
Image of tray/bucket
This table is perfect for people with a small deck and don't want to go back to the kitchen refrigerator every few hours, maybe minutes for some to replenish people's drinks.
If the bucket does get low you can use the cover a.k.a. tray to load up and bring back to the deck party.
The table is made from robust cedar 2x6's and some 5/4 deck boards. If it was good enough to hold people up as a deck for so many years you know that it will have no problem holding your drink or those people that like to use tables as their party stage.
How We Built It
Dimensions
The Sketchup image above does not have the tray incorporated. I'm still new at Sketchup and was having a difficult time trying to incorporate the tray.
To make the tray I took the 3 centre boards and added top rails to make the tray then added cross bracing underneath to hold the bucket and tray.
The images below will give you a better understanding how the bucket and tray are held up.
Preparation
Shopping list
---
2- 2"x 6" Cedar Boards, 8 foot long
2- 5/4" x 6" Cedar Boards, 8 foot long
1- 1/2" x 6" Cedar Fence Board, 4 foot long
Note: Lumber size listed is in nominal sizes. Learn more about Nominal vs. Actual sizes here.
We used a stack of reclaimed lumber cut down to sizes required.
Materials
---
Cedar Wood. Can be deck cedar quality or reclaimed cedar
Spar Urethane
Pocket Hole Screws
Wood Screws
Outdoor Rated Wood Glue
Tools
---
Must Have Tools
Safety Glasses
Ear Protection
Dust Mask
Sandpaper
Drill
Tape Measure
Square
Circular Saw
Paint Brush
Advanced Tools
Compound/Mitre Saw
Table Saw
Pocket Hole Jig
Impact Drill
Orbital Sander
HVLP Paint Sprayer
Jointer
Planer
Cut List
---
Top

2 -2x6 x 23"
5 -2x6 x 16" (3 cut down to 2x4")
2 - 1/2 x 1 1/2" x 16"
2 - 1/2 x 1 1/2" x 10 3/4"

Legs

8 - 5/4 x 5 1/4 x 16"
8 - 5/4 x 2 1/2 x 16"

Bucket holder
Steps To Building The Table with Ice Bucket
Additional planning before cutting the wood making sure the reclaimed wood we are using will work for this project.
It looks like we forgot to hit the record button during the cutting stage. So we are moving right along to pre-drilling the holes for assembly. We used a pocket hole jig from Kregg.
We never used a pocket hole jig before until we started the prequel to this project, the Outdoor Loveseat.
We found the joints to be quite strong using the pocket hiles that we decided to use it for this project as well.
Sanding all the pre-cut and pre-drilled boards. Lots and lots of sanding.
Sanding the assembled tray that covers the ice bucket and makes the top of the table.
Most of the table is assembled and now in the process of installing the ice bucket.
Time to add a few coats of Spar Urethane.
The first coat with thin the urethane to about 50% so that it soaks deep into the wood to provide a better deeper protection and provide better adhesion for the following coats.
What's Next?
The completed table looks fantastic and matches well with the Outdoor Loveseat we built using the same reclaimed deck wood.