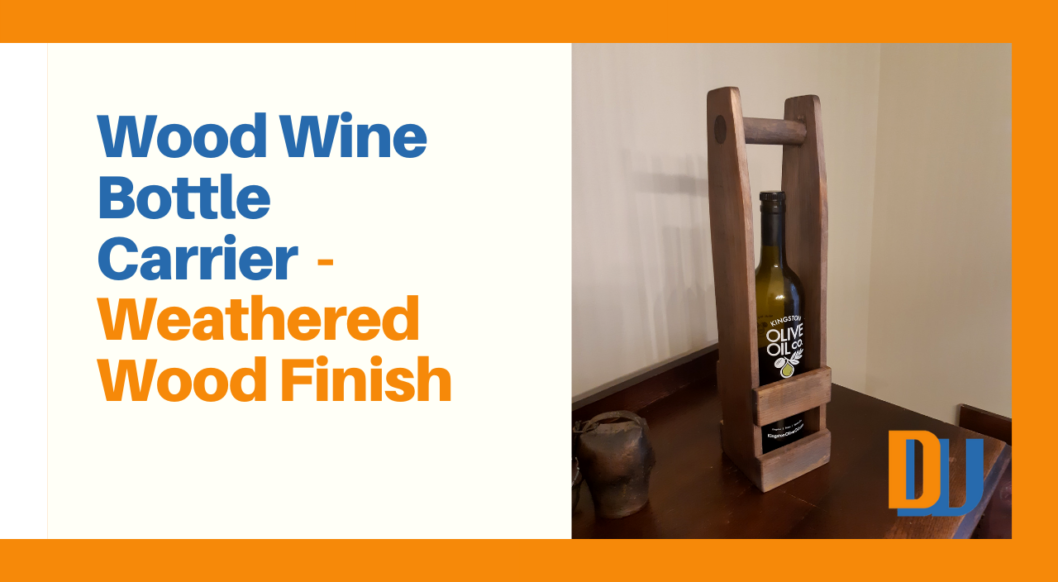 Wood Wine Bottle Carrier
This wood wine bottle carrier will make for an amazing gift along with that bottle of wine you bring to your next gathering at your friends or family holiday meal.
Instead of bringing that bottle over with the typical paper bag or cardboard container, why not present it with a wooden bottle carrier that can be used as a wine bottle display or can be passed on from one event to another for years.
Share Me On Pinterest!
This easy to do a project that can be done with simple hand tools but much easier with the help of a table saw and compound miter saw as we used.
Check out the video below to see the steps taken to complete this project.
How We Built It
Design and Dimensions
We look at some images online of various styles and designs for wine bottle carriers and this one caught our eye.

Starting with a piece of scrap wood and an empty bottle, an empty Olive Oil bottle, in this case, we started by figuring out the height and amount of wood we would be needing.
The scrap wood that we had on hand was too thick so we needed to get down to half the thickness.

All we needed for this project was a 1" thick board that was 17" tall and 3" wide by 1" thick. Once we re-cut to the wood in two we had more than enough wood to build this bottle carrier.
Preparation
Shopping List
---
1 - 1" x 6" x 17" re-cut into 1/2" x 6" x 17"
1 - 1" x 4" pine dowel
Note: Lumber size listed here is in actual size. Learn more about Nominal vs. Actual sizes here.
Materials
---
Pine Wood -we used rough cut pine lumber but you can use any grade to save on prep time.
Wood Glue
Nails or brad/ pin nails from a nail gun
Weathered Wood Accelerator or stain of choice
Linseed Oil or protective finish of you choice.
Tools
---
Must Have Tools
Safety Glasses
Ear Protection
Dust Mask
Sandpaper
Drill
Tape Measure
Square
Circular Saw
Paint Brush
Hammer
Advanced Tools
Compound/Miter Saw
Table Saw
Orbital Sander
HVLP Paint/Stain Sprayer
Joiner
Planer
Pneumatic Nail Gun
Cut List
---
Sides

1 - 1" x 3" x 17", re-cut in two to have 2 - 7/8" x 3" x 17". Drill a 1 inch hole in the center at 1" down from the top.

Side ​Straps

Start with cutting 1 - 1" x 1 3/4" x 16", re-cut in two to have 2 - 7/8" x 1 3/4" x 16" then cut down to have final 4 - 7/8" x 1 3/4" x 4"

Bottom
Steps To Building The Wood Wine Bottle Carrier
This carrier is designed for small wine bottles. We started with measuring the bottle then drawing it up in SketchUp.
With the plan in hand we started to cutting all the pieces needed for this project.
The boards cut to size we still needed to re-cut the wood to the final thickness.
Using a table saw presents some challenges when re-sawing wood in two but with some patience and keeping your fingers far away it can be successful. Once cut on both sides it's a matter of snapping the wood in two.
All the wood is now cut to size and re-sawed to the right thickness we can now drill the holes for the dowel handle.
Now with all the wood cut and drilled we can do the sanding.
The best part is assembling all the pieces where can see what the whole carrier will look like.
Some more sanding and touch ups then it's time for making the wood look weathered or you can use a stain or paint of your choice.
The final protective coating we used for this project is Linseed Oil as it really brings out the grain of the wood and provides a protective coating against alcohol.
The Linseed Oil finish looks awesome for this project.
We will surely be making more of these and possibly different styles of wood wine bottle carriers bottle holders to come.
We hope the information and instructions are helpful so you can build this for yourself or give as a gift at your next family or friend's diner party.
Have a question or comment? Please leave them below we love to hear from you.
Please don't forget to share this post on your favorite social media platform and share with your family and friends.